Insignia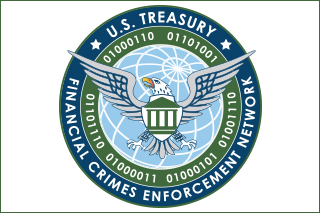 ​
FinCEN's insignia emphasizes its unique mission to safeguard the financial system from illicit use and to promote national security through the collection, analysis, and dissemination of financial intelligence. It prominently features several symbols central to our mission.
The globe represents FinCEN's worldwide reach, influence, authorities, and responsibilities.
Binary numbers, spell out FinCEN in binary code, and represent the financial data FinCEN uses to keep our country strong and prosperous, our financial system secure, and our communities and families safe from harm.
The eagle represents the strength, power, and determination of the American people, and its position in the center symbolizes the power and commitment of our protection.
The shield represents our national security mission.
The silhouette of a bank represents the complex financial system we protect, use, help supervise, and administer.